JAPAN'S 1ST WORLD CUP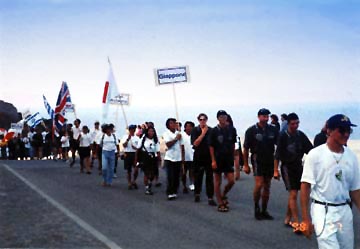 In July 1998, on the island of Sardinia in Italy, the 2nd Freediving (Apnea) World Cup was held. There was 27 countries competing, including Japan (the only Asian country). Only 6 countries participated in the first Championships in 1996 in France. It is not untrue to say that the 2nd World Cup was the first worldwide Apnea competition.
The grand opening ceremony with special guests Jacques Mayol and Raimondo Bucher, and the parade (see picture on this page), were held on the first day. All the freedivers gathered together with joy, and they (us too, of course) were very excited anticipating the coming competition.
The Program:
20th July
Parade/opening ceremony
21st - 25th
Constant weight training/competition with lectures, video shows, etc.
27th
Static apnea competition, and closing ceremony/presentation awards.
The format of the constant weight is: You are awarded 1 point per 1 metre dive (no centimetres). Before your performance, you have to state your diving depth. Even if you dive deeper than your statement, you don't get extra points. But if you don't reach your statement, you get a penalty.
For example: your statement is 40m / your result 30 m (with surveying instrument)
Depth computer shows a depth of 35m = 35 points.
Penalty = 40m (statement) - 35m (your result) = 5 m (5 points)
35 (your result) - 5 (penalty) = 30 points (this is your points)

The format of the constant weight : You get 1 point per 6 seconds of breath-hold. And you must state your time beforehand (how long you can stop breathing). It's a different system to the constant weight scoring. You CAN get extra points for holding your breath longer than your statement.
The reason why this is allowed is if two people have the same breath-hold time, the person who held their breath closest to their statement time would be the winner. But I have never seen this happen.
We, the Japanese Team members, knew the different levels of the world. But in the static competition, our result was not too bad as we were 14th on the day. There were some countries with the apnea ability far higher than that of Japan, but they scored penalties because of "Black outs". The organiser of the competition gave very heavy penalties for "black outs". If a team member "blacked out" in either discipline, they were disqualified from the competition. This effectively made a 4 member team a 3 member team. It means that it was impossible to win at a higher level as the team lost the score of 1 diver. This rule shows us how important safety is in diving, not only at the competition level, but also in diving practice. The World Cup was very superior in security measures for the freedivers. On this point, it will be difficult to hold an Apnea competition in Japan.
On 27th July, the closing ceremony and presentation of awards was held at the nearest town - Santa Teresa. We had a long spell of good weather throughout the schedule.
We, the Japanese team, participated in the World Cup for the purpose of making ourselves familiar with the other countries' freedivers, and exchanged opinions and information on each other, rather than attending for our results. We wish to share with you - freedivers of Japan - our experiences and know-how. We are sure we can carry out this purpose for ourselves and for the benefit of us all.
Our last desire, to share our experiences and know-how, we wish to do through our home pages and "MUGEN". Right?!
---